Sample: Simple Map
Note - this map is a modification for The Underworld. Visit the new Mods Portal for more mods, mods on the wiki are no longer maintained. You can put it in-game by visiting the Debug Mod Control Panel in the debug rooms and browse to this mod or copy/paste the JSON below into the program window.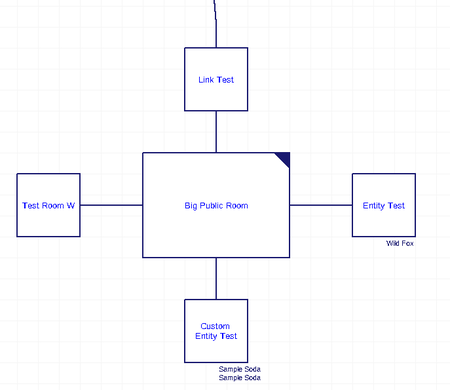 Map Details
This map is intended to be a simple example of a user created map for Underworld.
Dependencies: In order for the sodas to spawn, Sample Soda should be loaded before visiting the map.
Author: SkyCorp
Map JSON Code
{


	

"type"

:

 

"MAP"

,


	

"mapID"

:

 

"Sample Simple Map"

,


	

"startingRoomID"

:

 

1

,

	
	

"map"

:

 

"77u/PD94bWwgdmVyc2lvbj0iMS4wIiBlbmNvZGluZz0idXRmLTgiPz4NCjx0cml6Ym9ydCB2ZXJzaW9uPSIxLjUuOS45Ij4NCgk8aW5mbyAvPg0KCTxtYXA+DQoJCTxyb29tIGlkPSIxIiBuYW1lPSJUZXN0IFJvb20gVyIgc3VidGl0bGU9IiIgeD0iLTM1MiIgeT0iMCIgdz0iOTYiIGg9Ijk2IiByZWdpb249Ik5vUmVnaW9uIiBoYW5kRHJhd249InllcyIgYWxsY29ybmVyc2VxdWFsPSJ5ZXMiIGVsbGlwc2U9Im5vIiByb3VuZGVkQ29ybmVycz0ibm8iIG9jdGFnb25hbD0ibm8iIGNvcm5lclRvcExlZnQ9IjE1IiBjb3JuZXJUb3BSaWdodD0iMTUiIGNvcm5lckJvdHRvbUxlZnQ9IjE1IiBjb3JuZXJCb3R0b21SaWdodD0iMTUiIGJvcmRlcnN0eWxlPSJTb2xpZCIgZGVzY3JpcHRpb249IlRoaXMgcm9vbSBpcyBpbiB0aGUgd2VzdC4iIHJvb21GaWxsPSIiIHNlY29uZEZpbGw9IiIgc2Vjb25kRmlsbExvY2F0aW9uPSJCb3R0b20iIHJvb21Cb3JkZXI9IiIgcm9vbUxhcmdlVGV4dD0iIiByb29tU21hbGxUZXh0PSIiIC8+DQoJCTxyb29tIGlkPSIyIiBuYW1lPSJCaWcgUHVibGljIFJvb20iIHN1YnRpdGxlPSIiIHg9Ii0xNjAiIHk9Ii0zMiIgdz0iMjI0IiBoPSIxNjAiIHJlZ2lvbj0iTm9SZWdpb24iIGhhbmREcmF3bj0ieWVzIiBhbGxjb3JuZXJzZXF1YWw9InllcyIgZWxsaXBzZT0ibm8iIHJvdW5kZWRDb3JuZXJzPSJubyIgb2N0YWdvbmFsPSJubyIgY29ybmVyVG9wTGVmdD0iMTUiIGNvcm5lclRvcFJpZ2h0PSIxNSIgY29ybmVyQm90dG9tTGVmdD0iMTUiIGNvcm5lckJvdHRvbVJpZ2h0PSIxNSIgYm9yZGVyc3R5bGU9IlNvbGlkIiBpc0Rhcms9InllcyIgZGVzY3JpcHRpb249IkEgcHVibGljIGFyZWEuIiByb29tRmlsbD0iIiBzZWNvbmRGaWxsPSIiIHNlY29uZEZpbGxMb2NhdGlvbj0iQm90dG9tIiByb29tQm9yZGVyPSIiIHJvb21MYXJnZVRleHQ9IiIgcm9vbVNtYWxsVGV4dD0iIiAvPg0KCQk8bGluZSBpZD0iMyIgbmFtZT0iIiBkZXNjcmlwdGlvbj0iIj4NCgkJCTxkb2NrIGluZGV4PSIwIiBpZD0iMSIgcG9ydD0iZSIgLz4NCgkJCTxkb2NrIGluZGV4PSIxIiBpZD0iMiIgcG9ydD0idyIgLz4NCgkJPC9saW5lPg0KCQk8cm9vbSBpZD0iNCIgbmFtZT0iTGluayBUZXN0IiBzdWJ0aXRsZT0iIiB4PSItOTYiIHk9Ii0xOTIiIHc9Ijk2IiBoPSI5NiIgcmVnaW9uPSJOb1JlZ2lvbiIgaGFuZERyYXduPSJ5ZXMiIGFsbGNvcm5lcnNlcXVhbD0ieWVzIiBlbGxpcHNlPSJubyIgcm91bmRlZENvcm5lcnM9Im5vIiBvY3RhZ29uYWw9Im5vIiBjb3JuZXJUb3BMZWZ0PSIxNSIgY29ybmVyVG9wUmlnaHQ9IjE1IiBjb3JuZXJCb3R0b21MZWZ0PSIxNSIgY29ybmVyQm90dG9tUmlnaHQ9IjE1IiBib3JkZXJzdHlsZT0iU29saWQiIGRlc2NyaXB0aW9uPSJOb3J0aCB3aWxsIHJldHVybiBiYWNrIHRvIHRoZSBnYW1lIHdvcmxkLiIgcm9vbUZpbGw9IiIgc2Vjb25kRmlsbD0iIiBzZWNvbmRGaWxsTG9jYXRpb249IkJvdHRvbSIgcm9vbUJvcmRlcj0iIiByb29tTGFyZ2VUZXh0PSIiIHJvb21TbWFsbFRleHQ9IiIgLz4NCgkJPGxpbmUgaWQ9IjUiIG5hbWU9IiIgZGVzY3JpcHRpb249IiI+DQoJCQk8ZG9jayBpbmRleD0iMCIgaWQ9IjQiIHBvcnQ9InMiIC8+DQoJCQk8ZG9jayBpbmRleD0iMSIgaWQ9IjIiIHBvcnQ9Im4iIC8+DQoJCTwvbGluZT4NCgkJPHJvb20gaWQ9IjYiIG5hbWU9IkVudGl0eSBUZXN0IiBzdWJ0aXRsZT0iIiB4PSIxNjAiIHk9IjAiIHc9Ijk2IiBoPSI5NiIgcmVnaW9uPSJOb1JlZ2lvbiIgaGFuZERyYXduPSJ5ZXMiIGFsbGNvcm5lcnNlcXVhbD0ieWVzIiBlbGxpcHNlPSJubyIgcm91bmRlZENvcm5lcnM9Im5vIiBvY3RhZ29uYWw9Im5vIiBjb3JuZXJUb3BMZWZ0PSIxNSIgY29ybmVyVG9wUmlnaHQ9IjE1IiBjb3JuZXJCb3R0b21MZWZ0PSIxNSIgY29ybmVyQm90dG9tUmlnaHQ9IjE1IiBib3JkZXJzdHlsZT0iU29saWQiIGRlc2NyaXB0aW9uPSJBIGZveCBsaXZlcyBoZXJlLiIgcm9vbUZpbGw9IiIgc2Vjb25kRmlsbD0iIiBzZWNvbmRGaWxsTG9jYXRpb249IkJvdHRvbSIgcm9vbUJvcmRlcj0iIiByb29tTGFyZ2VUZXh0PSIiIHJvb21TbWFsbFRleHQ9IiI+DQoJCQk8b2JqZWN0cz5XaWxkIEZveDwvb2JqZWN0cz4NCgkJPC9yb29tPg0KCQk8bGluZSBpZD0iNyIgbmFtZT0iIiBkZXNjcmlwdGlvbj0iIj4NCgkJCTxkb2NrIGluZGV4PSIwIiBpZD0iMiIgcG9ydD0iZSIgLz4NCgkJCTxkb2NrIGluZGV4PSIxIiBpZD0iNiIgcG9ydD0idyIgLz4NCgkJPC9saW5lPg0KCQk8bGluZSBpZD0iOCIgbmFtZT0iZGVmYXVsdDo0MDEiIGRlc2NyaXB0aW9uPSIiPg0KCQkJPGRvY2sgaW5kZXg9IjAiIGlkPSI0IiBwb3J0PSJuIiAvPg0KCQkJPHBvaW50IGluZGV4PSIxIiB4PSItNjQiIHk9Ii00MTYiIC8+DQoJCTwvbGluZT4NCgkJPHJvb20gaWQ9IjkiIG5hbWU9IkN1c3RvbSBFbnRpdHkgVGVzdCIgc3VidGl0bGU9IiIgeD0iLTk2IiB5PSIxOTIiIHc9Ijk2IiBoPSI5NiIgcmVnaW9uPSJOb1JlZ2lvbiIgaGFuZERyYXduPSJ5ZXMiIGFsbGNvcm5lcnNlcXVhbD0ieWVzIiBlbGxpcHNlPSJubyIgcm91bmRlZENvcm5lcnM9Im5vIiBvY3RhZ29uYWw9Im5vIiBjb3JuZXJUb3BMZWZ0PSIxNSIgY29ybmVyVG9wUmlnaHQ9IjE1IiBjb3JuZXJCb3R0b21MZWZ0PSIxNSIgY29ybmVyQm90dG9tUmlnaHQ9IjE1IiBib3JkZXJzdHlsZT0iU29saWQiIGRlc2NyaXB0aW9uPSJUaGUgdHdvIHNvZGEgZW50aXRpZXMgd2lsbCBvbmx5IHNwYXduIGlmIHlvdSBjcmVhdGUgdGhlIGVudGl0eSBpbiB0aGUgY29udHJvbCBwYW5lbCBhbmQgVEhFTiB2aXNpdCB0aGlzIHJvb20uIiByb29tRmlsbD0iIiBzZWNvbmRGaWxsPSIiIHNlY29uZEZpbGxMb2NhdGlvbj0iQm90dG9tIiByb29tQm9yZGVyPSIiIHJvb21MYXJnZVRleHQ9IiIgcm9vbVNtYWxsVGV4dD0iIj4NCgkJCTxvYmplY3RzPlNhbXBsZSBTb2RhfFNhbXBsZSBTb2RhPC9vYmplY3RzPg0KCQk8L3Jvb20+DQoJCTxsaW5lIGlkPSIxMCIgbmFtZT0iIiBkZXNjcmlwdGlvbj0iIj4NCgkJCTxkb2NrIGluZGV4PSIwIiBpZD0iMiIgcG9ydD0icyIgLz4NCgkJCTxkb2NrIGluZGV4PSIxIiBpZD0iOSIgcG9ydD0ibiIgLz4NCgkJPC9saW5lPg0KCTwvbWFwPg0KCTxzZXR0aW5ncz4NCgkJPGNvbG9ycz4NCgkJCTxjYW52YXM+V2hpdGU8L2NhbnZhcz4NCgkJCTxib3JkZXI+TWlkbmlnaHRCbHVlPC9ib3JkZXI+DQoJCQk8bGluZT5NaWRuaWdodEJsdWU8L2xpbmU+DQoJCQk8c2VsZWN0ZWRMaW5lPkdvbGQ8L3NlbGVjdGVkTGluZT4NCgkJCTxob3ZlckxpbmU+RGFya09yYW5nZTwvaG92ZXJMaW5lPg0KCQkJPGxhcmdlVGV4dD5NaWRuaWdodEJsdWU8L2xhcmdlVGV4dD4NCgkJCTxzbWFsbFRleHQ+TWlkbmlnaHRCbHVlPC9zbWFsbFRleHQ+DQoJCQk8bGluZVRleHQ+TWlkbmlnaHRCbHVlPC9saW5lVGV4dD4NCgkJCTxncmlkPiNGNUY1RjU8L2dyaWQ+DQoJCQk8c3RhcnRSb29tPkdyZWVuWWVsbG93PC9zdGFydFJvb20+DQoJCQk8ZW5kUm9vbT5SZWQ8L2VuZFJvb20+DQoJCTwvY29sb3JzPg0KCQk8cmVnaW9ucz4NCgkJCTxOb1JlZ2lvbiBOYW1lPSJOb1JlZ2lvbiIgVGV4dENvbG9yPSJCbHVlIj5XaGl0ZTwvTm9SZWdpb24+DQoJCTwvcmVnaW9ucz4NCgkJPGZvbnRzPg0KCQkJPHJvb20gc2l6ZT0iMTMiPkFyaWFsPC9yb29tPg0KCQkJPG9iamVjdCBzaXplPSIxMSI+QXJpYWw8L29iamVjdD4NCgkJCTxsaW5lIHNpemU9IjkiPkFyaWFsPC9saW5lPg0KCQk8L2ZvbnRzPg0KCQk8Z3JpZD4NCgkJCTxzbmFwVG8+eWVzPC9zbmFwVG8+DQoJCQk8dmlzaWJsZT55ZXM8L3Zpc2libGU+DQoJCQk8c2hvd09yaWdpbj55ZXM8L3Nob3dPcmlnaW4+DQoJCQk8c2l6ZT4zMjwvc2l6ZT4NCgkJPC9ncmlkPg0KCQk8bGluZXM+DQoJCQk8d2lkdGg+Mjwvd2lkdGg+DQoJCQk8YXJyb3dTaXplPjEyPC9hcnJvd1NpemU+DQoJCQk8dGV4dE9mZnNldD40PC90ZXh0T2Zmc2V0Pg0KCQk8L2xpbmVzPg0KCQk8cm9vbXM+DQoJCQk8ZGFya25lc3NTdHJpcGVTaXplPjI0PC9kYXJrbmVzc1N0cmlwZVNpemU+DQoJCQk8b2JqZWN0TGlzdE9mZnNldD40PC9vYmplY3RMaXN0T2Zmc2V0Pg0KCQkJPGNvbm5lY3Rpb25TdGFsa0xlbmd0aD4zMjwvY29ubmVjdGlvblN0YWxrTGVuZ3RoPg0KCQkJPHByZWZlcnJlZERpc3RhbmNlQmV0d2VlblJvb21zPjY0PC9wcmVmZXJyZWREaXN0YW5jZUJldHdlZW5Sb29tcz4NCgkJCTxkZWZhdWx0Um9vbU5hbWU+Q2F2ZTwvZGVmYXVsdFJvb21OYW1lPg0KCQk8L3Jvb21zPg0KCQk8dWk+DQoJCQk8aGFuZGxlU2l6ZT4xMjwvaGFuZGxlU2l6ZT4NCgkJCTxzbmFwVG9FbGVtZW50U2l6ZT4xNjwvc25hcFRvRWxlbWVudFNpemU+DQoJCTwvdWk+DQoJCTxtYXJnaW5zPg0KCQkJPGRvY3VtZW50U3BlY2lmaWM+bm88L2RvY3VtZW50U3BlY2lmaWM+DQoJCQk8aG9yaXpvbnRhbD4wPC9ob3Jpem9udGFsPg0KCQkJPHZlcnRpY2FsPjA8L3ZlcnRpY2FsPg0KCQk8L21hcmdpbnM+DQoJCTxrZXlwYWROYXZpZ2F0aW9uPg0KCQkJPGNyZWF0aW9uTW9kaWZpZXI+Y29udHJvbDwvY3JlYXRpb25Nb2RpZmllcj4NCgkJCTx1bmV4cGxvcmVkTW9kaWZpZXI+YWx0PC91bmV4cGxvcmVkTW9kaWZpZXI+DQoJCTwva2V5cGFkTmF2aWdhdGlvbj4NCgk8L3NldHRpbmdzPg0KPC90cml6Ym9ydD4="




}



Map Source
To view this in trizbort, copy/paste this into a text file with the .trizbort extension. (It is not expected or needed to write trizbort XML by hand)
<?xml version="1.0" encoding="utf-8"?>




<trizbort

 

version=

"1.5.9.9"

>


	

<info

 

/>


	

<map>


		

<room

 

id=

"1"

 

name=

"Test Room W"

 

subtitle=

""

 

x=

"-352"

 

y=

"0"

 

w=

"96"

 

h=

"96"

 

region=

"NoRegion"

 

handDrawn=

"yes"

 

allcornersequal=

"yes"

 

ellipse=

"no"

 

roundedCorners=

"no"

 

octagonal=

"no"

 

cornerTopLeft=

"15"

 

cornerTopRight=

"15"

 

cornerBottomLeft=

"15"

 

cornerBottomRight=

"15"

 

borderstyle=

"Solid"

 

description=

"This room is in the west."

 

roomFill=

""

 

secondFill=

""

 

secondFillLocation=

"Bottom"

 

roomBorder=

""

 

roomLargeText=

""

 

roomSmallText=

""

 

/>


		

<room

 

id=

"2"

 

name=

"Big Public Room"

 

subtitle=

""

 

x=

"-160"

 

y=

"-32"

 

w=

"224"

 

h=

"160"

 

region=

"NoRegion"

 

handDrawn=

"yes"

 

allcornersequal=

"yes"

 

ellipse=

"no"

 

roundedCorners=

"no"

 

octagonal=

"no"

 

cornerTopLeft=

"15"

 

cornerTopRight=

"15"

 

cornerBottomLeft=

"15"

 

cornerBottomRight=

"15"

 

borderstyle=

"Solid"

 

isDark=

"yes"

 

description=

"A public area."

 

roomFill=

""

 

secondFill=

""

 

secondFillLocation=

"Bottom"

 

roomBorder=

""

 

roomLargeText=

""

 

roomSmallText=

""

 

/>


		

<line

 

id=

"3"

 

name=

""

 

description=

""

>


			

<dock

 

index=

"0"

 

id=

"1"

 

port=

"e"

 

/>


			

<dock

 

index=

"1"

 

id=

"2"

 

port=

"w"

 

/>


		

</line>


		

<room

 

id=

"4"

 

name=

"Link Test"

 

subtitle=

""

 

x=

"-96"

 

y=

"-192"

 

w=

"96"

 

h=

"96"

 

region=

"NoRegion"

 

handDrawn=

"yes"

 

allcornersequal=

"yes"

 

ellipse=

"no"

 

roundedCorners=

"no"

 

octagonal=

"no"

 

cornerTopLeft=

"15"

 

cornerTopRight=

"15"

 

cornerBottomLeft=

"15"

 

cornerBottomRight=

"15"

 

borderstyle=

"Solid"

 

description=

"North will return back to the game world."

 

roomFill=

""

 

secondFill=

""

 

secondFillLocation=

"Bottom"

 

roomBorder=

""

 

roomLargeText=

""

 

roomSmallText=

""

 

/>


		

<line

 

id=

"5"

 

name=

""

 

description=

""

>


			

<dock

 

index=

"0"

 

id=

"4"

 

port=

"s"

 

/>


			

<dock

 

index=

"1"

 

id=

"2"

 

port=

"n"

 

/>


		

</line>


		

<room

 

id=

"6"

 

name=

"Entity Test"

 

subtitle=

""

 

x=

"160"

 

y=

"0"

 

w=

"96"

 

h=

"96"

 

region=

"NoRegion"

 

handDrawn=

"yes"

 

allcornersequal=

"yes"

 

ellipse=

"no"

 

roundedCorners=

"no"

 

octagonal=

"no"

 

cornerTopLeft=

"15"

 

cornerTopRight=

"15"

 

cornerBottomLeft=

"15"

 

cornerBottomRight=

"15"

 

borderstyle=

"Solid"

 

description=

"A fox lives here."

 

roomFill=

""

 

secondFill=

""

 

secondFillLocation=

"Bottom"

 

roomBorder=

""

 

roomLargeText=

""

 

roomSmallText=

""

>


			

<objects>

Wild Fox

</objects>


		

</room>


		

<line

 

id=

"7"

 

name=

""

 

description=

""

>


			

<dock

 

index=

"0"

 

id=

"2"

 

port=

"e"

 

/>


			

<dock

 

index=

"1"

 

id=

"6"

 

port=

"w"

 

/>


		

</line>


		

<line

 

id=

"8"

 

name=

"default:401"

 

description=

""

>


			

<dock

 

index=

"0"

 

id=

"4"

 

port=

"n"

 

/>


			

<point

 

index=

"1"

 

x=

"-64"

 

y=

"-416"

 

/>


		

</line>


		

<room

 

id=

"9"

 

name=

"Custom Entity Test"

 

subtitle=

""

 

x=

"-96"

 

y=

"192"

 

w=

"96"

 

h=

"96"

 

region=

"NoRegion"

 

handDrawn=

"yes"

 

allcornersequal=

"yes"

 

ellipse=

"no"

 

roundedCorners=

"no"

 

octagonal=

"no"

 

cornerTopLeft=

"15"

 

cornerTopRight=

"15"

 

cornerBottomLeft=

"15"

 

cornerBottomRight=

"15"

 

borderstyle=

"Solid"

 

description=

"The two soda entities will only spawn if you create the entity in the control panel and THEN visit this room."

 

roomFill=

""

 

secondFill=

""

 

secondFillLocation=

"Bottom"

 

roomBorder=

""

 

roomLargeText=

""

 

roomSmallText=

""

>


			

<objects>

Sample Soda|Sample Soda

</objects>


		

</room>


		

<line

 

id=

"10"

 

name=

""

 

description=

""

>


			

<dock

 

index=

"0"

 

id=

"2"

 

port=

"s"

 

/>


			

<dock

 

index=

"1"

 

id=

"9"

 

port=

"n"

 

/>


		

</line>


	

</map>


	

<settings>


		

<colors>


			

<canvas>

White

</canvas>


			

<border>

MidnightBlue

</border>


			

<line>

MidnightBlue

</line>


			

<selectedLine>

Gold

</selectedLine>


			

<hoverLine>

DarkOrange

</hoverLine>


			

<largeText>

MidnightBlue

</largeText>


			

<smallText>

MidnightBlue

</smallText>


			

<lineText>

MidnightBlue

</lineText>


			

<grid>

#F5F5F5

</grid>


			

<startRoom>

GreenYellow

</startRoom>


			

<endRoom>

Red

</endRoom>


		

</colors>


		

<regions>


			

<NoRegion

 

Name=

"NoRegion"

 

TextColor=

"Blue"

>

White

</NoRegion>


		

</regions>


		

<fonts>


			

<room

 

size=

"13"

>

Arial

</room>


			

<object

 

size=

"11"

>

Arial

</object>


			

<line

 

size=

"9"

>

Arial

</line>


		

</fonts>


		

<grid>


			

<snapTo>

yes

</snapTo>


			

<visible>

yes

</visible>


			

<showOrigin>

yes

</showOrigin>


			

<size>

32

</size>


		

</grid>


		

<lines>


			

<width>

2

</width>


			

<arrowSize>

12

</arrowSize>


			

<textOffset>

4

</textOffset>


		

</lines>


		

<rooms>


			

<darknessStripeSize>

24

</darknessStripeSize>


			

<objectListOffset>

4

</objectListOffset>


			

<connectionStalkLength>

32

</connectionStalkLength>


			

<preferredDistanceBetweenRooms>

64

</preferredDistanceBetweenRooms>


			

<defaultRoomName>

Cave

</defaultRoomName>


		

</rooms>


		

<ui>


			

<handleSize>

12

</handleSize>


			

<snapToElementSize>

16

</snapToElementSize>


		

</ui>


		

<margins>


			

<documentSpecific>

no

</documentSpecific>


			

<horizontal>

0

</horizontal>


			

<vertical>

0

</vertical>


		

</margins>


		

<keypadNavigation>


			

<creationModifier>

control

</creationModifier>


			

<unexploredModifier>

alt

</unexploredModifier>


		

</keypadNavigation>


	

</settings>




</trizbort>